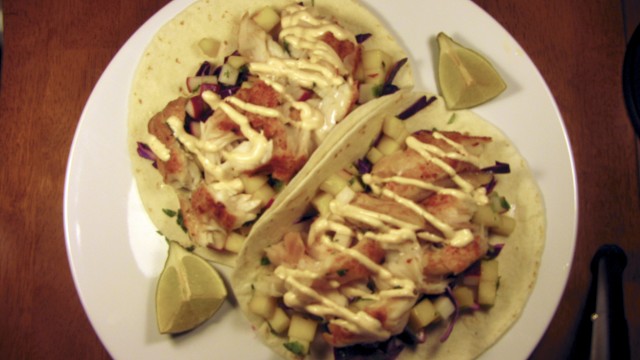 Smoked Tilapia Tacos
Tacos are one of my all-time favorite meals, and fish tacos are ideal for a stovetop smoker. The fish cooks quickly, so the easy setup and cleanup of the smoker doesn't add any work to the preparation of the meal. You can also substitute shrimp for the tilapia if you choose (just make sure to take the shells off before putting them in the smoker). This recipe includes instructions for making a homemade mango salsa (it's super simple). If you'd rather not make your own, any pre-made fruit salsa will work too (for example: http://www.amazon.com/Desert-Pepper-Pineapple-16-Ounce-Multi-pack/dp/B005GTU4Y2/ )
Ingredients
2 tilapia filets (approx 1 lb)
1/4 tsp paprika
1/4 tsp chili powder
1/2 tsp salt
1/4 cup mayonaise
1/4 cup sour cream
2 Tbsp hot sauce
2 limes
1 mango
4-5 radishes
1 bunch fresh cilantro (finely chopped)
1/4 head of cabbage
8-12 flour tortillas, warmed for serving
directions
Combine paprika, chili powder and salt. Dust the tilapia filets with the spice mixture and set aside.
Whisk together the mayonaise, sour cream, hot sauce and juice from 1/2 lime. Season with salt. Refrigerate until ready to serve.
 Peel and finely dice the mango. Dice the radishes. Combine with juice from 1/2 lime and half of the chopped cilantro. Season with salt and set aside.
Assemble to smoker according to the manufacturer's directions. We recommend the Alder chips for this recipe. Place the fish on a sheet of aluminum foil before putting into the smoker. This will prevent it from falling through the rack as it cooks.
Cut the remaining lime into wedges (6-8) and place on the smoker rack skin side down.
Set the smoker over medium-high heat and cook until the fish is finished (15-20 minutes).
Meanwhile, finely slice the cabbage and toss with the remaining cilantro.
Remove the fish from the smoker and flake with a fork (be sure to leave the fish in large chunks.)
Assemble your tacos by first spreading some of the spicy mayonnaise onto the tortilla, place a few chunks of the fish onto the mayo, top with the mango salsa and sliced cabbage. Finally, take one of the smoked lime wedges and squeeze over the taco. Enjoy.