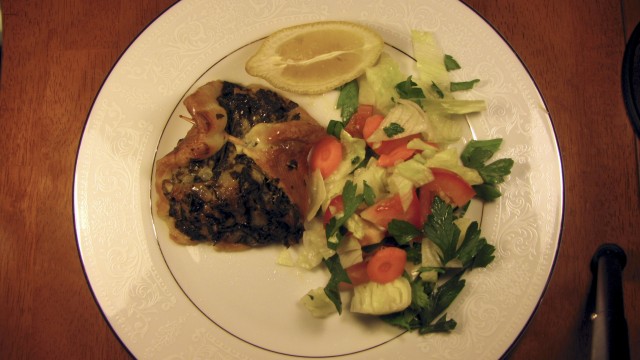 Smoked Stuffed Flounder
This stuffed flounder is easy and elegant, perfect for that next visit from the in-laws. It's a great example of how you can use your stovetop smoker as a replacement for your oven in some recipes. Here we're adapting a favorite recipe for stuffed flounder that ordinarily would be baked. Since the smoker reaches comparable temperatures it is an easy way to add an extra layer of flavor.
ingredients
1.5 lbs of flounder fillets
1 small onion, finely diced
1 10-ounce package of frozen chopped spinach, thawed and drained
1/4 cup bread crumbs
2 tablespoons chopped fresh parsley leaves
1 lemon
1/4 cup white wine
2 Tbsp unsalted butter
salt & pepper
directions
Melt the butter in a saute pan over medium heat. Add the onions and a generous pinch of salt. Reduce heat and allow the onions to cook slowly, until translucent (about 10-12 minutes).
Add the spinach and white wine. Raise the heat to high and cook until the liquid is reduced by half.
Remove from heat and stir in bread crumbs, parsley and the juice from one lemon. Season with salt and pepper.
Lay out the fillets on a flat surface. Divide the stuffing equally among the fillets, making a mound of stuffing on the end of each fillet.
Roll the fillets around the stuffing and secure with a toothpick. Season the outside of the flounder roll with salt and pepper.
Setup the stovetop smoker according to the instructions. Use the alder wood chips for the best results.
Put the flounder into the smoker.
Once you see smoke, close the cover and allow to cook for 20 minutes. (Depending on the size of your flounder rolls you may not be able to close the cover. If this is the case use aluminum foil instead.)
Remove the flounder from the smoker, and serve with rice.