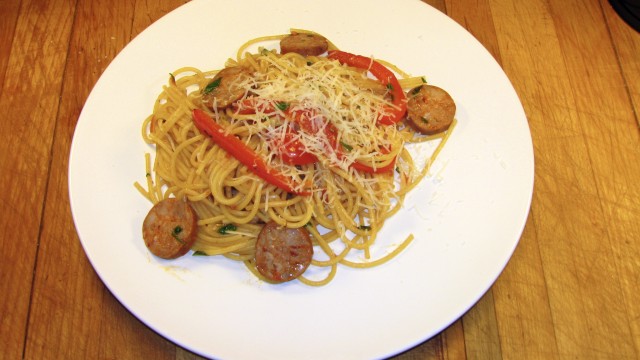 Smoked Sausage with Red Peppers and Spaghetti
Who doesn't love spaghetti? Pasta is so great because it's easy make, and so very versatile. The addition of smoked sausages and bell peppers give this dish an amazing flavor. Plus, it comes together vey quickly so you can find the energy to make it even after a long day at the office.
Ingredients:
4 Italian style sausages (hot or sweet)
2 medium red bell peppers, cored
1 small onion, diced
1/2 cup crushed tomatoes
2 T capers
2 t dried oregano
1/4 cup fresh chopped parsley
8 oz. spaghetti
1/4 cup grated Parmesan cheese
2 T olive oil
salt and pepper
Directions:
Place wood chips into the bottom of your smoker and the put drip pan and
rack into place. We recommend the oak or hickory chips for this recipe.
Place sausages and bell peppers onto the smoker rack and close lid. Set smoker over medium heat.
Add spaghetti to well-salted, boiling water and cook until almost done (we will finish cooking in the sauce). Strain pasta, reserving 1 cup of the water, and set aside.
In the meantime, add olive oil and onions to a heated saute pan and cook over medium heat.
Remove pepper from the smoker after 10 minutes. Cut into thin strips and add to saute pan. Continue to cook until peppers are soft and onions are translucent.
Once sausages are cooked (internal temp of 165º) remove from the smoker and set aside to rest.
Add tomatoes, oregano, capers, parsley, Parmesan cheese, spaghetti and reserved pasta water to saute pan and turn heat to high.
Cook, stirring constantly, until water has cooked out and remove from hear.
Slice sausages, toss through pasta, and serve.