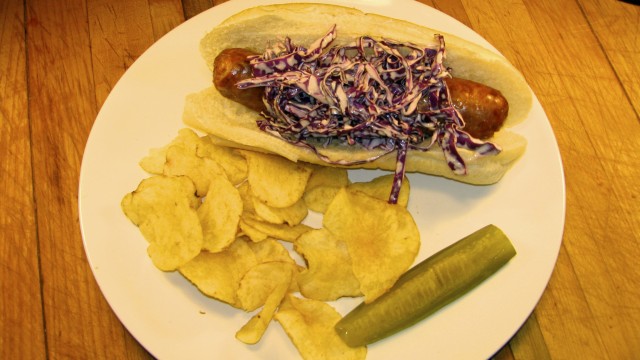 Smoked Sausage Sandwich with Spicy Coleslaw
Sausages are a perfect food for the stovetop smoker. This recipe brings the tastes of the summer grill indoors, all year round. We tested this recipe using sweet Italian sausages, but hot sausages and bratwurst will also work.
Ingredients
4 links sweet Italian sausage
4 hoagie rolls
3 cups shredded cabbage
1/4 cup mayonnaise
2 tbsp apple cider vinegar
1 tbsp sour cream
1/2 tsp sriracha (or other hot sauce)
1/2 tsp garlic powder
salt and pepper to taste
Directions
Place wood chips into the bottom of your smoker and the put drip pan and rack into place. We recommend the oak chips for this recipe. They create a nice smoky flavor that works well with the sausage and the onions.
Place onions, butter, and salt onto a small sheet of aluminum foil and place onto the rack of your smoker. (It's helpful to create a little lip around the edge of the foil so that nothing falls out.)
Place sausages onto the rack, attach lid, and place smoker over medium heat until the sausages are cooked through (approximately 20 minutes).
While the sausages cook, whisk together the mayonnaise, cider vinegar, sour cream, sriracha, garlic powder, salt, and pepper.
Toss cabbage with the dressing, and place into the refrigerator until needed.
When the sausages are ready, remove from the smoker. Serve in a bun, topped with the onions and coleslaw.