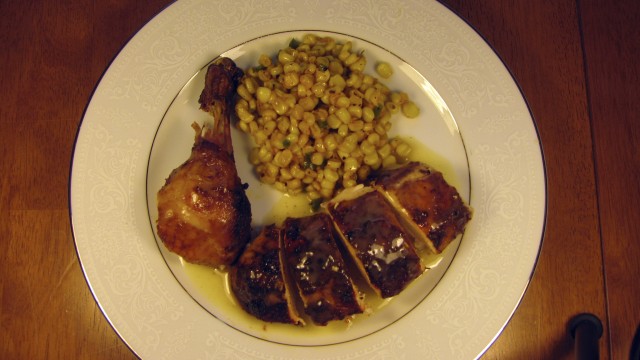 Smoked Roaster Chicken
A roast chicken is a classic family meal. I have many great memories growing up, sitting down to a meal of roast chicken and gravy with my parents and brother and sister. When I have time, I love to make this meal for my family. Here's a simple way to add a smoky flavor to a roasting chicken, without adding any work or time to the process.
ingredients:
1 (5 to 6 pound) roasting chicken
Kosher salt
Freshly ground black pepper
2 Tbsp sweet paprika
1/4 tsp cayenne pepper
1 large bunch fresh rosemary
1 head garlic, cut in half crosswise
2 Tbsp canola oil
2 Tbsp butter
1 Tbsp flour
2 cups chicken stock (use our Smoked Chicken Stock, if you have it)
directions:
Preheat oven to 425º
Remove the chicken giblets. Rinse the chicken inside and out. Liberally salt and pepper the inside of the chicken. Stuff the cavity with the rosemary and the garlic.
Combine the salt, black pepper, paprika, and cayenne pepper.
 Rub the outside of the chicken with the spices. Tie the legs together with kitchen string and tuck the wing tips under the body of the chicken.
Assemble the stovetop smoker according to its directions, adding 2 Tbsp of wood chips. This recipe is especially good with the Maple chips. A combination of Oak and Hickory also works well.
Place the chicken (breast side up) into the smoker pan and cover with aluminum foil. Be sure to leave one corner of the foil open for now.
Move the smoker onto the stovetop and heat over medium heat. Once smoke appears, close the last corner of the foil and allow to smoke for 45 minutes.
Move the smoker into the oven. Remove the foil and brush the skin with the canola oil.
Roast the chicken for 45 minutes, or until the juices run clear when you cut between a leg and thigh. Remove the chicken to a platter and cover with aluminum foil for about 20 minutes.
Meanwhile, melt the butter in a small saucepan. Whisk in the flour and allow to cook for 30 seconds. Add the chicken stock and bring to a boil. Reduce the heat and allow to thicken to a nice gravy.
Slice the chicken onto a platter and serve with the gravy.
Be sure to save the bones and carcass to make stock. The leftover chicken makes great chicken salad. Check out the Secondhand Smoke section for these recipes