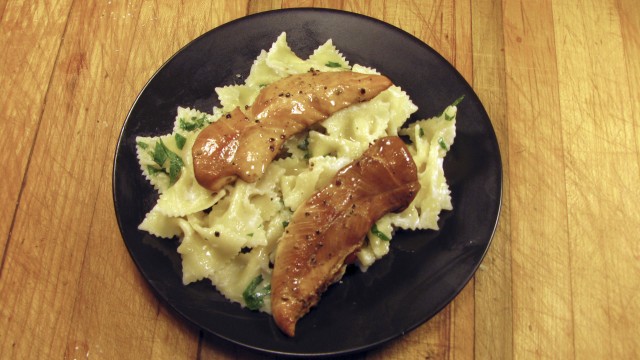 Smoked Chicken with Farfalle and Alfredo Sauce
ingredients
4 chicken tenders (or two boneless chicken breasts)
8 oz dry farfalle pasta
2 Tbsp butter
1 Tbsp flour
2 cups milk
1 tsp ground nutmeg
2 Tbsp fresh chopped parsley
salt and pepper
directions
In a small saucepan, melt the butter. Whisk in the flour and cook for 30 seconds.
Add the milk and bring to a boil. Add the nutmeg and salt. Reduce to a simmer and allow to thicken.
Prepare the chicken using our Basic Smoked Chicken Recipe.
While the chicken is cooking, bring 4 quarts of salted water to a boil. Add the pasta and cook until al dente, then drain in a colander.
In a serving bowl, mix the pasta with the sauce and the parsley. Serve with the chicken.