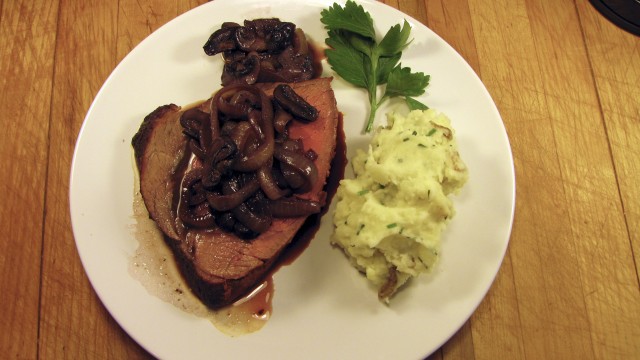 Beef Roast with Smoky Mushrooms and Caramelized Onions
This recipe is a variation on a classic roast beef. It adds a light smoky flavor to the beef, without adding any cooking time. The leftovers make awesome sandwiches the next day.
ingredients:
A 3 pound boneless beef roast (bottom round or rump roast is perfect)
1 Tbsp smoked paprika
1 Tbsp kosher salt
 1 t ground black pepper
1/4 t cayenne pepper
2 Tbsp canola oil
1 cup thinly sliced onions
1/2 pound cremini mushrooms
1 cups red wine
directions:
Whisk together the the paprika, salt, pepper, and cayenne.
Rub the seasoning mixture onto the beef roast, covering it completely.
Allow the roast to sit at room temperature for about an hour (it will cook faster and more consistently if it begins at room temperature rather than straight from the fridge.)
Preheat the oven to 400 degrees.
Assemble the stovetop smoker according to manufacturer's instructions. We used the oak chips for this recipe, but a combination of oak and hickory OR the bourbon soaked oak chips will also produce tasty results.
Place the roast onto the rack. Add the mushrooms around the roast. Cover the smoker with aluminum foil (chances are the cover won't fit anyway.) Be sure to leave one corner of the foil open for now.
Heat the smoker on the stovetop. When smoke appears, seal the last corner of the foil and allow to smoke for 20 minutes.
After the smoker has been on the stovetop for 20 minutes, remove from the heat. Open the foil and remove the mushrooms. Reseal the foil, leaving one corner open to allow steam to escape. Move the smoker into the oven.
Allow to cook in for another 40 minutes (or until the internal temperature is 120 degrees.)
Meanwhile, heat the oil in a saute pan and add the onions. Season liberally with salt and pepper. Reduce the heat to low and allow to cook until the onions are caramelized and golden brown (approx 20 minutes).
When the onions are fully caramelized, slice the mushroom and add to the pan.
Add the wine and increase the heat to bring to a boil. Reduce the heat and allow to simmer until the wine has reduces to a thick sauce.
Remove the roast from the oven and allow to rest for 15-20 minutes.
Slice and serve with the sauce.