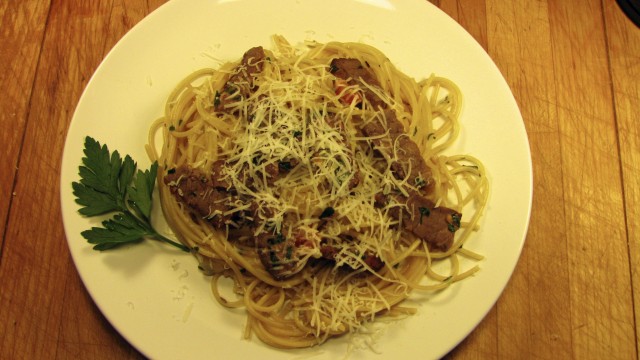 Smoked Beef Pasta
The other night I was thinking about the leftover smoked beef  sitting in my fridge, waiting to be eaten. I wasn't in the mood for the typical vegetable sides I make, I wanted something more comforting like pasta. Pasta is so good, so simple and so cheap; a great base for almost anything. Here is what I came up with: a nice two pan meal that can be made quickly on a weeknight, or when you are pressed for time but still want a classy meal.
ingredients
2-3 cups leftover Smoked Beef, cut into thin strips
2 Tbsp canola oil
1 small onion, finely diced
2 Tbsp flour
1 cup beef stock (you can also use Smoked Chicken Stock if you have any)
1/4 cup crushed tomatoes
1/4 cup chopped frech parsley
1 Tbsp dried oregano
8 oz spaghetti
2 Tbsp grated Parmesan cheese
directions
Bring 2 quarts of heavily salted water to a boil. Then add the spaghetti and cook until it is almost al dente. (It will be slightly undercooked, but that's okay.) Drain spaghetti and set aside.
Meanwhile, heat the canola oil in a medium saute pan. Add the beef and cook for 1-2 minutes, until some browning occurs.
Remove the beef and set aside, add the onions and reduce heat. Cook until the onions are translucent.
Whisk in flour and allow to cook for 30 seconds.
Add beef stock and bring to a boil.
Add oregano and tomatoes. Season with salt and pepper. Continue to cook for 2 minutes.
Add spaghetti and cook until al dente.
Move the spaghetti and its sauce to a serving bowl and toss with the beef, parsley, and Parmesan cheese.