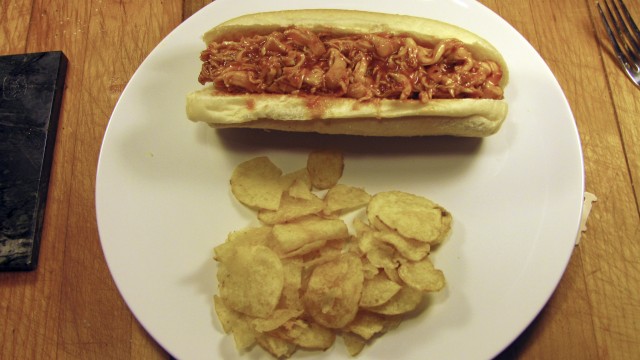 BBQ-style Smoked Chicken Sandwiches
This is an easy way to make some great tasting smoked chicken sandwiches using a homemade BBQ sauce. There is no one "right way" to make sauces like this. If you have never made a sauce like this then we suggest you start with the following recipe. You modify it to meet your taste on subsequent batches (changing the amount of sugar for example). Of course, if you already have a favorite recipe (or bottled sauce), try it with this shredded chicken.
ingredients
4 chicken tenders (or two boneless chicken breasts)
2 hoagie rolls
2 cup ketchup
1 cup chicken stock (use our Smoked Chicken Stock, if you have it)
1/2 cup cider vinegar
2 Tbsp brown mustard
1 Tbsp Worcestershire sauce
1 Tbsp chili powder
5 Tbsp brown sugar
1 tsp salt
1 tsp ground black pepper
directions
In a medium saucepan, combine the ketchup, chicken stock, vinegar, mustard, Worcestershire sauce, chili powder, brown sugar, salt and pepper.
Bring the mixture to a boil, then reduce to a simmer.
Cook uncovered, stirring frequently, for 1 hour and 15 minutes.
After the sauce has cooked for 45 minutes, prepare the chicken using our Basic Smoked Chicken Recipe.
Once the chicken has cooked, move it to a cutting board and shred it using two forks.
Mix the shredded chicken with some of the BBQ sauce. Serve the chicken in a hoagie roll.
Additional tips:
Doubling or tripling the size of the recipe can be a good way to make in advance so that subsequent meal prep times are shorter.
If you opt to make extra sauce, simply put it in a resealable container and put it in the fridge.
Make sure you reheat it before mixing with the chicken, otherwise you will have cold sandwiches (I sometimes put the sauce in a pan and mix the chicken in the sauce while it is reheating)